How did Jesse James die?
The infamous outlaw Jesse James met his demise in his home at 1318 Lafayette Street in St. Joseph.Missouri on April 3, 1882. He was fatally shot by Bob Ford, a fellow member of the James gang, who shot him to claim the $10,000 reward offered by Governor Tom Crittenden.

At the age of 34, Jesse's lawless career spanned 16 years. During his final days, he was living with his wife and two children, and going by the name Tom Howard to evade capture.

On the day of the incident, Jesse was unexpectedly shot from behind while standing on a chair, trying to adjust a picture in his home. Following his shooting, his wife, two children, and his mother, Mrs. Zerelda Samuel, sought refuge at Patee House, known then as the World's Hotel, for the next two nights.
In 1995, forensic scientist James Starrs exhumed the outlaw's body in Kearney, Missouri, to perform DNA tests. The results of these tests indicated a 99.7% likelihood that the individual killed in 1882 was indeed Jesse James.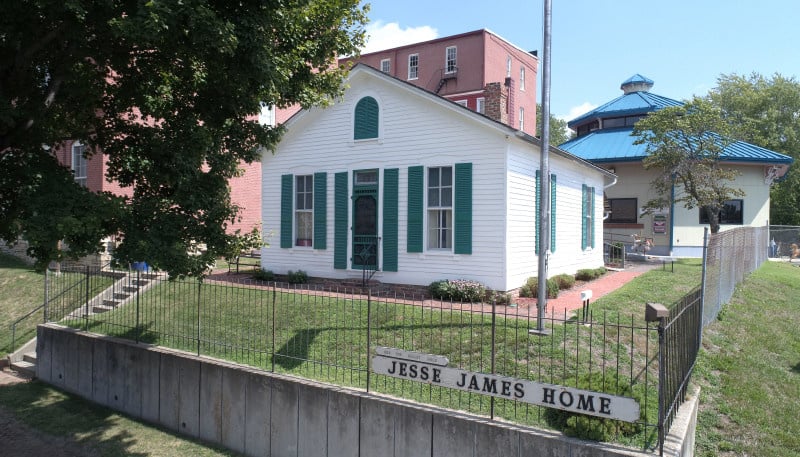 The James Home serves as a museum dedicated to the life and death of Jesse James. Today, visitors at the Jesse James home can view various artifacts from the grave, including the coffin handles, a small tie pin worn by Jesse James on the day of his death, a bullet extracted from his right lung area, and a cast of his skull, revealing the bullet hole located behind his right ear.

Managed by the Pony Express Historical Association, the Jesse James Museum generates revenue through admission charges, which is then utilized to maintain both the James Home and the Patee House Museum.
The James Home was initially situated approximately two blocks north of its current position, situated atop a high hill with a view of Patee House. However, in 1939, it was relocated to the Belt Highway in St. Joseph to serve as a tourist attraction.

In 1977, Mr. and Mrs. Robert Keatley acquired the James Home and later generously donated it to the Pony Express Historical Association. Subsequently, the house was brought back to its original neighborhood and now stands on the grounds of the Patee House Museum.
Visit the Patee House Museum and Jesse James Home website.